Hey kids! Check it out: a letter with mandarin oranges for postage stamps… It can only mean one thing: a gift coming all the way from the far east! The farthest east of all: Minneapolis, USA!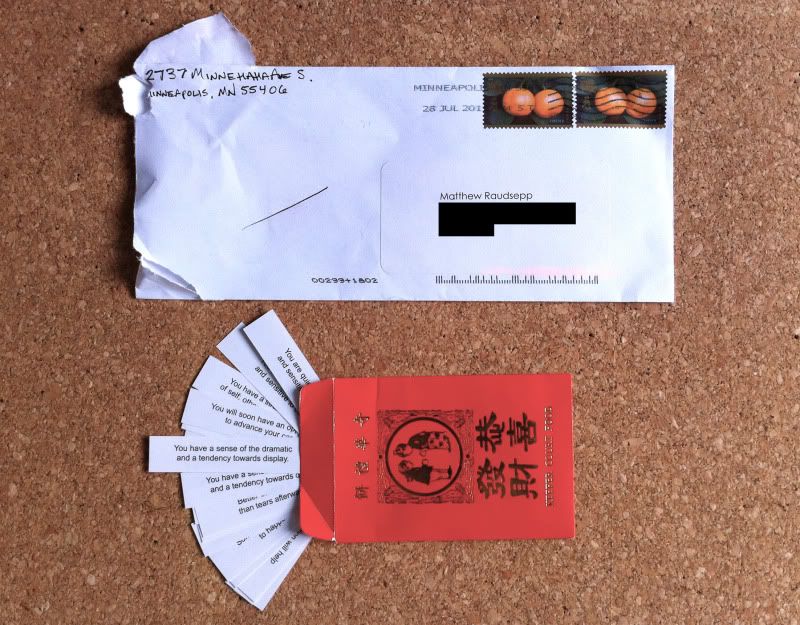 It worked! The KC Fortune Cookie Factory sent me my fortunes, sans cookies… enough of them to last me a month! Fortunes include:
"You have a sense of the dramatic and a tendency towards display". TRUE! Just look at the picture above. That's a fan, people. Conjures an asiatic fan, doesn't it? Yeah, that's on purpose, kids.
"You have a good heart" and "You have riches in your heart". FALSE! One of those two staments must be false. They're contradictory. If my heart had riches in it (jewels, silver and gold, guys named Rich) I doubt I'd be alive. A heart is not a treasure chest. It can't hold precious stones, metals and other people. However, the heart itself is a treasure inside a chest. Write THAT one on a fortune, kids.
"Use your charm and personality to your advantage". TRUE! Did I not get some free stuff today?! And will I continue to reap what I sow on this blog? Yes and yes. *Charming wink* followed by an *appropriate smile hinting at my unique personality* (Could you picture it? Now THAT's charm and personality, kids).
In conclusion, I give KC Fortune Cookie Factory's customer service four and a half BloggToggs out of five. Half a point has been deducted until Chairman Kwan writes another one of his blog posts.