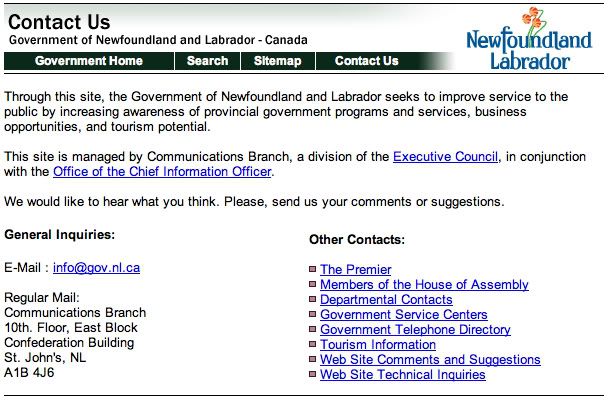 I love to travel. My last trip was to Swastika Lake, Saskatchewan. Let me tell you, the Canada Goose-stepping that I witnessed was overwhelming. A sight to see! Anyway, here's a letter I wrote to the Government of Newfoundland and Labrador, Canada (note: all towns and places mentioned are 100% real. Google it):
Dear Newfoundland,
You are an attractive province. I've yet to visit your shores, but hot damn, do I ever want to. Your town names have firmly burned the image of frolicking nudists into my mind. I want in, Newfoundland.
In my spare time, I've been planning a trip to your province. My itinerary is still in the works, but here's the tentative plan:
If Cupids strikes me I'll start there. Next would be Frenchs Cove, with a strong intention to move on to Blow Me Down. On the other hand, I wouldn't want to move too fast through the land; I may end up in Come-By-Chance. If so, I'd have to avoid Placentia. However, if I do end up visiting Placentia there's a high likelihood that my trip would end up in Conception Bay. This gets tricky when planning on sleeping around Virgin's Arm (at which point Ass Rock may be the only option). Or, perhaps, Leading Tickles West until I made my way to Spread Eagle, working slowly down to Dildo (I would hope to see Exploits River as a result).
Is this trip sexy enough by Newfoundland's standards? Or, are there any pre-existing XXX tour packages available?
Also, before I sign off, could you please send me some official town history from each of the locations listed above in my itinerary? It would be greatly appreciated! There isn't much information online about the shoals at Ass Hill, for example.
Sincerely,
Matt Raudsepp