FroggToggs.com replied to the email I wrote them on December 22, 2010. What follows is a photo of their response which I screen-captured from my inbox.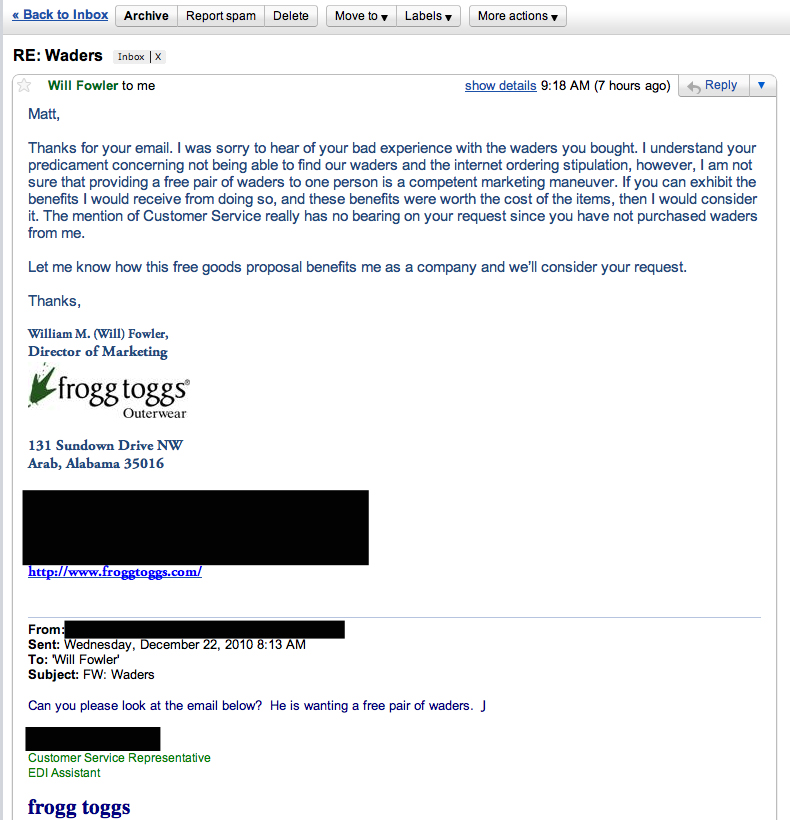 I replied to their message with the following email.
Hello Mr. Fowler,
I was honestly expecting some sort of automated, electronic answering machine response. Thank you for taking the time to get back to me personally. I truly appreciate that.
As per your request, the benefits FroggToggs.com would receive by sending me a free pair of waders would be gaining a lifelong customer and committed supporter who, in turn, would extol the virtues of your company to any and everyone he ever met along the "dog walking trail" of life. I do have a large clientele that is easily influenced by me. Not four months ago I recommended a certain heavy duty choke-chain to one of my clients who proceeded to purchase several of them before her little puppy's next scheduled walk.
I can also offer up my sister-in-law's services as a video camera person and produce a testimonial video praising the waders and encouraging viewers to visit your Web business (on the condition that I truly find the waders to be satisfactory). My sister-in-law tells me she already has an idea for "lighting some rain droplets as they cascade down the boot-foot waders", giving me shivers in the imagining of. She filmed her own wedding video too. I don't know how she does it!
In the event that you deem these benefits to be unsatisfactory – I would be happy to accept a few pictures of the waders in question being tested to my standards. A series of pictures in which the waders are suspended, filled with water, and hit and swatted at with a bat or fishing rod (without any of the water spilling from the seams) would give me the confidence to use my credit card and make an Inter-Net purchase of the waders at your on-line merchant's store.
Thank you again, Mr. Fowler!
Sincerely,
Matthew Raudsepp
Walkie-Doggie Inc.
P.S. Your name suggests to me that you come from a long line of bird catchers. Do you hunt fowl? Have you a golden retriever by any chance?