Kleenex replied to the email I wrote them on January 12, 2011. What follows is a screen-capture of their response taken from my inbox.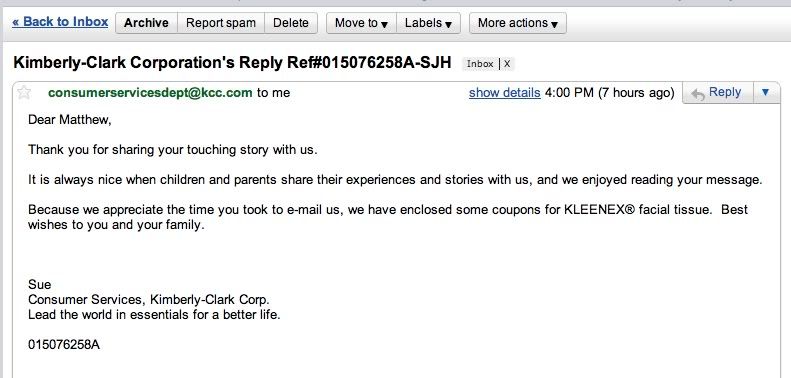 I immediately responded with the following email.
Hello Sue,
First of all, thank you for the lovely response.
Second of all, I need to get my wife her own email address. As you have witnessed, Matthew Jr. has quite the imagination and it doesn't help any that his mother constantly encourages every one of his whims. I wouldn't mind it so much if she weren't emailing via her husband's work address. You understand.
Thirdly, thank you for the offer of coupons but there was nothing attached in the email. I would like to believe that Kleenex is true to their word. I would like to believe in that.
Regards,
Mr. M. Raudsepp
In my first draft of this response I had added an elaborate postscript in which Matthew senior tried to sell Sue some "dream property" in Florida. He was letting Sue in on a "once-in-a-lifetime opportunity" that he was hesitant to tell "any and everyone" about, and yet, he said that if she wasn't interested in the offer that she should immediately pass it along to her co-workers. I figured that a slightly short-tempered and hard-working dad needed a get-rich-quick scheme to occupy his time away from his wife, Samantha, and son, Matthew junior. I ended up deleting the postscript because I decided that I'd rather get me those Kleenex coupons than spend hours building a fake "Florida Swampland Real Estate" webpage to attach as a link under Matthew senior's signature.