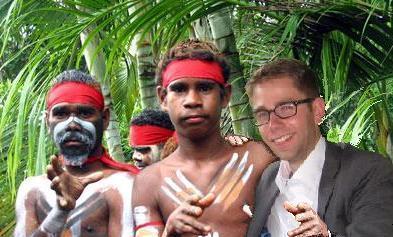 Hello Fellow Foodies!
I'm back from my vacation! Australia was absolutely breathtaking. From the Airport in Syndney, we crawled into another plane the size of a special needs bus and then four hours later we touched down in Kimberley, on the north Western tip of the continent. There, we were greeted by our guide, Dwayne, who drove us out to the edges of the rainforest and introduced to the Warlpiri tribe.
Nestled in the bosom of the tropical forest, the nights were dank, and the days usually climbed to a sweltering 45 degrees. I immediately regretted wearing my suit. But the tribespeople all agreed that I looked pretty sharp.
It is said that, in the world, australian aboriginal cuisine is second only to that of the French. And my gastronomical experience Down Under did not disappoint. I can already see that their cooking will have an influence on my own. You can expect to see some more fruit bat recipes in the near future. I'll be using more insects, reptiles, and kelp. This will mean foraging for my next meal beyond the grocery store and into caves, under rocks and in pet stores. Anything to capture that Australian Aboriginal je ne sais quoi!