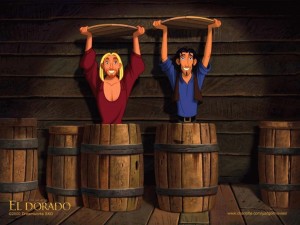 El Dorado Del Avocado is the perfect summer sandwich. In my experience however, it is best enjoyed in the middle of winter, when one longs for sultrier times. This rustic Andean-inspired chicken sandwich is warm and inviting, and like Mother Nature herself, she is fiery and temperamental. I've made this dish a number of times, and it always gets people's attention. "Matthew" they'd say "tell me, my friend, what inspired this delicious recipe?" And to that I would say, "Why, the Dreamworks animated comedy 'The Road to El Dorado' released in 2000, featuring the voices of Kevin Kline and Kenneth Brannagh, and songs by Elton John and Tim Rice. For those who haven't seen the movie, the city of El Dorado is depicted as a wonderful pseudo-Mesozoic utopian civilization. I offer you the equivalent sandwich-form.
Serves: 1.
Prep time: about a day and a half.
Ingredients:
Peruvian Cornbread (see below for instructions)
Cooked marinated chicken (see below for instructions)
Spicy Lime mayonnaise (see below for instructions)
Onion
Yellow Pepper
Jalapeno Havarti
Avocado
Sprouts
Cayenne
Lime juice and its zest
Salt and Pepper
The first step is baking the bread, a traditional Peruvian cornbread. Ideally, make the bread the day before you plan on having the sandwich, or take off work and make it the morning of.
Bread Ingredients:
1 ½ cups boiling water
1 cup cornmeal
2 tablespoons butter (softened)
1 egg yolk
½ cup milk
½ cup cottage cheese
1 teaspoon salt
1 teaspoon baking powder
1/8 teaspoon ground allspice
1/8 teaspoon red pepper flakes
½ cup whole-kernel corn
1 cup shredded Monterey Jack cheese
1 small onion (chopped)
1 cup flour
2 egg whites
Preheat the oven to 350 degrees. Stir up the cornmeal into some boiling water until it's smooth. Then blend in the egg yolk. Then, except for the egg whites, stir in the remaining ingredients. Then beat in the egg whites just until soft peaks form then fold into the batter. Pour the batter into greased 2-quart casserole dish. Bake until knife inserted near the center comes out clean, 45 to 50 minutes.
Next step is marinating the chicken.
Marinade Ingredients:
1/2 cup honey
1/2 cup lime
1 tsp zest of lime
tbsp red pepper flakes
1/2 teaspoon of Cayenne
Salt
Pepper
Put all this stuff in a bag or a casserole dish for at least 2 hours. Overnight is best. Turn the chicken over a couple of times. Season the chicken and cook on the grill. Then set aside.
Almost there. Before assembling the sandwich, we need to make the mayonnaise. You can use store bought mayonnaise, but I like to make it from scratch, this way everything is fresh and there are no preservatives.
Mayonnaise Ingredients:
1 whole egg
1/2 tsp. salt
1/4 tsp. dry mustard
2 tbsp. of lime juice
1/2 cup of olive oil
Red Pepper flakes
Lime zest
Break the egg into a blender, then add mustard and salt. Beat with 2 or 3 tablespoons of oil until it starts to thicken, then add a few more drops of oil. As mixture begins to thicken add oil in larger quantities, but not too quickly. Then beat in the lime juice. Once properly mixed, add in a pinch of lime zest and red pepper flakes.
Chop the onion and yellow pepper into slices. Then sautee them in a pan. Dust them with cayenne pepper. Add salt and pepper to taste.
To build the sandwich, spread the mayonnaise on both sides of the bread. Cut the chicken into slices and add to the first piece of bread. Then top with sautéed vegetables. Add the jalapeno havarti. Then cut the avocado into substantial slices and layer them over the cheese. Then for a little crunch, add the sprouts and finally place the second piece of bread over top.
Bacon would not be out of place in such a sandwich.
Enjoy!