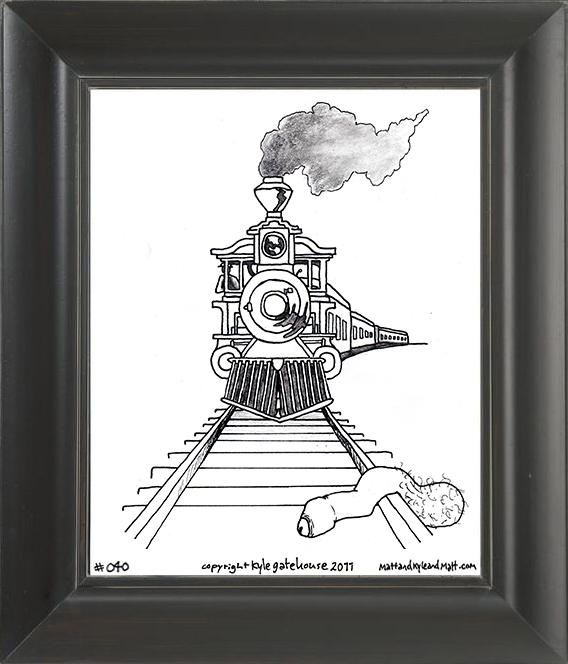 A small crowd gathers, and the members of it look intently at a beautiful miniature landscape lit from a radiant blue sky. There are men, women and children in the crowd – the youngest standing on long footstools that raise them to a suitable viewing level. The attention of every person present is held rapt on a small replica of a viaduct, with handsome stone piers and an intricate superstructure of thin timber beams. This carries a pair of shining nickel rails over the valley between two shrub-covered hills. Near one end of the viaduct, model trees as large (or as small) as rock-garden plants provide a fresh green frame for the entrance of the tunnel.
Then, with a soft purr of the wheels, a tiny train emerges from the tunnel to a wild chorus of hushed "ooh"s and "aah"s. The locomotive, barely as long as two fingers, draws four truly proportioned coaches in slow procession before the crowd, so overjoyed by the majesty of its finely crafted minutia that they are one and all brought to streaming tears of hot joy.
As the proud little locomotive makes its way along the polished rails – controlled by an unseen hand – those few members of the crowd not fixed on the movement of the train have allowed their gaze to follow the tracks, hoping to peer into what the future has in store for their heroic rail transport model. Licking the delicious rails with their wet ogle, the brave few members who look to the future feel as though they themselves are conducting their very own, slightly faster and completely imaginary, model train – an act they find to be immensely satisfying, as if they have wrestled the chaotic and uncaring universe into a submissive and orderly servitude.
Indeed, they, if only for an instant, feel like Gods, in complete control of their fate, a comforting peace warming its way through their hearts.
And as the little train bumps into the conductor's penis, laid gingerly over the tracks, the eyes of the crowd rise to meet the eyes of the conductor, and all are joined in that moment by their love of model railways.
Yours,
Kyle "Exposing Himself To Children At Hobby Conventions" Gatehouse